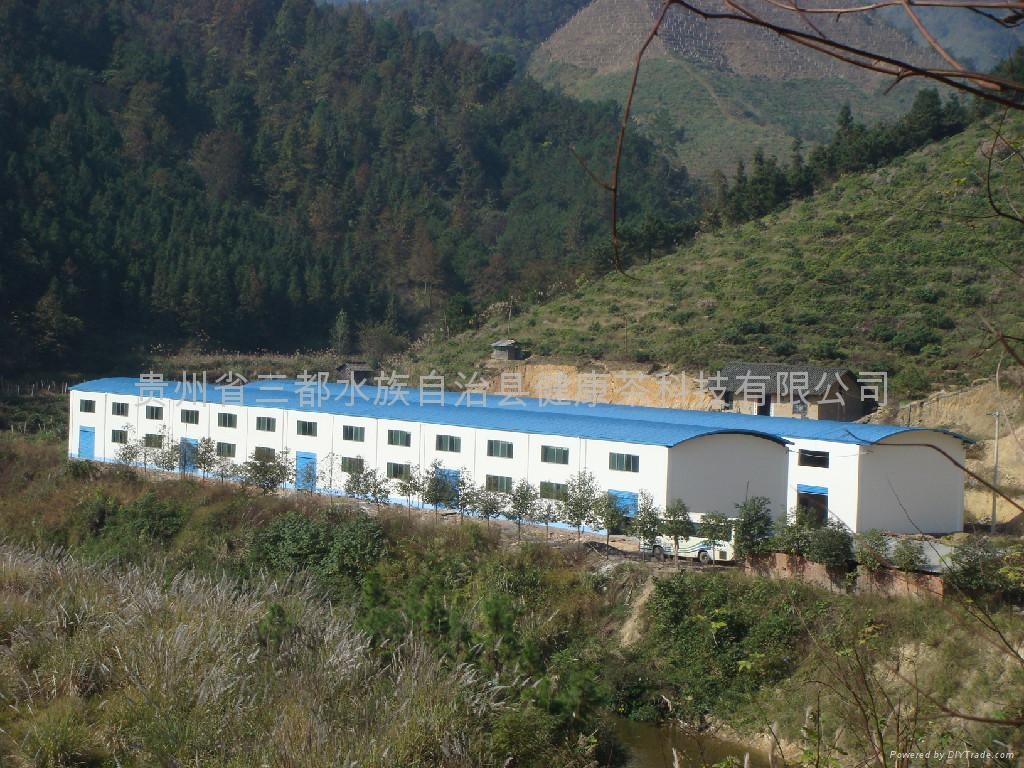 Herbal Tea Technology Co., Ltd Of Guizhou Province
was established in 2002 as the private technology enterprises in Guizhou Province. Company's brand "energy tree", meaning in the interpretation of "strong the body". Since its establishment, the company adhered to the high-tech products and high standards of service development objectives, market-oriented, committed to the development of quality health food industry. The "health food" represents the new concept to the traditional markets.
Our company has the largest sweet tea planting base, technology base with advanced processing equipment and four national patents with completely independent intellectual property. The planting base including 3850 acres' sweet tea planting area,Ashitaba , Lagerstroemia speciosa and other health tea together is 1300 acres.Factory's production and processing base is 3500 square meters. Located in the deep mountains and surrounded by the winded rivers, takes "Heaven and Earth Aura, the essence of sun and moon," the planting base has the magnificent growth environment. Green planting methods ensure that the product does not contain any pesticide residues, advanced processing equipment can meet the diversity of different products, such as the original leaf, the original draft, the original flower, strip, shred, TB, etc.; Lots of outstanding research talent, creating the quality and stability of the health food .According to the stuffs' great effort ,the company's products developed from sweet tea toAshitaba , Lagerstroemia speciosa, herbal tea and some other excellent products since 2002. .The tea extract also achieved excellent results. Through unremitting efforts the company has won county, state, provincial prestigious awards and HACCP, ISO9001 and QS Certificate
The so-called "health tea" means taking some wild plants' leaves with certain pharmacological effects and processing them into instant drink beverages. This kind of drinking " oringinated in Europe and the USA, they generally called this beverages

as herbal tea (plant tea).

Our production of "energy tree" brand "health tea" selects high-quality natural plant-based materials, using traditional technology and perfectly combined with modern technology.

Product is natural, nutritious, and tasteful!



Enterprise makes the use of national invention patent technology to produce the "energy tree" brand health tea. For its excellent quality, the products are sold domestically and exported to Japan, South Korea, the United States, Russia, Europe, Hong Kong, Macao

, Taiwan and other countries and regions.

Also our company welcome all the

potential partners to join us, to get our mutual benefits.
We sincerely hope to establish a good business relationship with peers and clients all around the world ,to carried forward the "energy tree" brand health tea business ,and take the most care of the human health!




Baking leaf
1.Sweet tea leaves(Rubus Suavissmus S,Lee)
2.Guava leaf (Psidium guajava Linn.)
3.Medlar Leaf(Lycium barbarum L.)
4.Eucommia ulmoies leaf (Eucommia ulmoides Oliv.)
5.Persimmon leaf(Diospyros Kaki L.F)
6.Loquat leaf(Eriobotrya japonica(Thunb.)Lindl.)
7.Henom bamboo leaf (Lophatherum gracile Brongn)
8.Purple common perilla Leaf(Perilla frutescens(L.) Britt.)
9.Lotus Leaf(Nelumbo nucifera Gaerth.)
10.Ginkgo leaf (Ginkgo biloba L.)
11. Kendyr leaf (Apocynum venetum L.)
12 Mulberry leaf(Morus alba L.)
13.Senna leaf (Cassia angustifolia Vahl)
14.Peppermint leaf(Mentha haplocalyx Briq.)
15.Engelhardia roxburghiana Wall leaf
16.Thamnoia ver-micularis(Ach.)Asahina
17.Angelica keiskei koidzmi
18.Indocalamus leaf (Indocalamus tessellatus (Munro)Keng f.)
19.Kelp (Laminaria japonica Arsch.)
20.Banaba leaf
21.Nettle leaf(U. Laeteui rens Maxim)
22. Palmleaf Raspberry leaf(Rubus chingii Hu)
23.Lily(L. pumilum DC)
24.Valerian (Valeriana officinalis L.)
25. Eucaliptus
26. Houseleek
27.Sweet Potato Leaf(Ipomoea batatas(L.)Lam)
28.Common Nandina,Heavenly Bamboo (Nandina domestica Thunb)




Baking grass
1.Senna(Cassia mimosoides L.)
2. Fiveleaf Gynostemma Herb
(Gynostemma pentaphyllum (Thunb.) Mak.)
3. Houttuynia(Houttuynia cordata Thunb.)
4.Oldenlandia diffusa (Hedyotis diffusa Willd.)
5.Barbed stullcap (Scutellaria barbata D.Don)
6.Plantain (Plantago asiatica L. )
7.Equisetum Arvense herba equiseti arvensis small scouring rush
8. Nordostachys Jatamansi DC
9. Echinacea purpurea
10.evening primrose(Oenothera erythrosepala Borb.)
11.Artemisia absinthium
12. Greater Calandine Herb (Chelidonium majus L.)
13. Bidens tripartite(Bidens pilosa L.)
14. Hyperium perforatum
15. Ahilea millefolium
16. Larkspur (Delphinium ajacis L)



Fruit、Root tuber
1.Cassia seed(Cassia obtusifolia L.)
2.Buckwheat (Fagopyrum esculentum Moench)
3.Balsam pear(Momordica charantia L.)
4.Liquorice(Glycyrrhiza uralensis Fisch. )
5.Curcuma root (Curcuma aromatica Salisb.)
6.Curcuma(Curcuma longa L.)
7.Ganoderma lucidum (Ganoderma Iucidum (Leyss.ex Fr.) Karst.)
8.Grosvenor momordica(Momordica grosvenori Swingle)
9.Jobstears Seed (Coix lacryma-jobi L. var. meyuan (Romen.) Stapf)
10.Malva Verucitillata leaf
11.Seabuckthorn Fruit (Hippophae fhamnoides L.)
12.rose hip tea
13. Cratogus
14. Flaxseed
15. Barley
16. Drled ginger
17. Quercus rabus
18. walnut cortex
19.Sword Bean (Canavalia gladiata(Jacq.)DC.)
20.Acorn (Quercus mongolica )